Dongtae is a loser. He is rock bottom in everything, be it looks, grades, luck and even love.
But things can change.. What if you could be reborn?
One day, he happens on a magical cube called "dice" and is given the chance to be "reborn".
That dice is the cube that changes everything..
                            If you could change your life by playing a game, would you?
                                   By....   Yun Hyunseok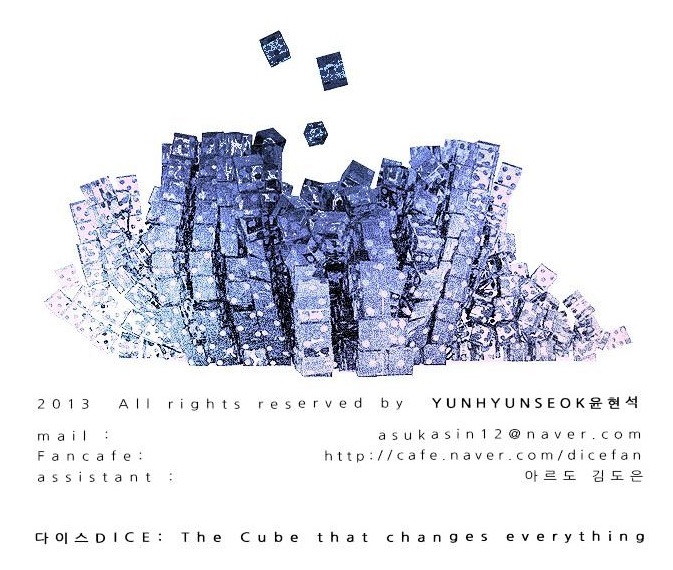 Information
The webtoon
Original webtoon from Naver: http://comic.naver.com/webtoon/list.nhn?titleId=557676
D.I.C.E The Cube that Changes Everything
The Dice webtoon was made in 2013 and ongoing, the author is Yun Hyunseok.
The story follows Dongtae, an unlucky boy who has problems with almost everything including a girl that he cant get or doesn't want to be embarrass. Looks, grades, and even getting bullied, he hates his life. But everything changes when Taebin, a Dicer, transfers. Upon obtaining a mysterious, iridescent dice, his life becomes little more interesting. The dice is a magical cube that can transform anything about YOU! For Dongtae he changes everything. Think about it what would you change?
Soundtrack
DICE: Chaos
DICE: Pandora
DICE: The Star
DICE: Dahlia
DICE: The First Day
DICE: Black Sheep
DICE: Are You Happy
DICE: REVIRTH
KAKAO

Foxtoon

Ridibooks

KakaoPage

Lezhin

Naver

---